#10kbooks4dago Book Drive
A book is a gift you can open again and again. Books are fun to read, expand a child's imagination, inspire them to write their own stories and help them with critical thinking. 
Msingi Trust and Maisha Yangu in partnership with Dagoretti Social Justice have an ongoing book drive for underprivileged kids in Dagoretti and other communities in need across Nairobi dubbed  #10kbooks4dago.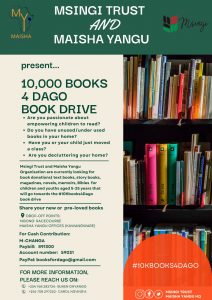 You can help with this noble effort by donating books and/or cash. If you'd like to visit the collection center or donate cash, contact +254 792 176030