10 Ways to $ave Money in Nairobi- Frugal, Thriftwise
Living in this concrete jungle we call Nairobi can be quite expensive. From tiny rental spaces that cost an arm and a leg to clothes with price tags that rival those at Harrods. Stretching that shilling till pay day is an extreme sport. For as many overpriced items as there are littering the city – (I'm looking at you  2500 bob burger)there are as many alternatives and resources for savings.
Here are ten (10) ways you can save money in Nairobi
1.) Rent- The golden rule is that your rent shouldn't exceed a third of your salary. This should be inclusive of your amenity bills. So always do the math before contacting a realtor.
2.) Food-  Daily nutrition is something we can't skimp on. But it doesn't have to be a budget buster. Before making that detour to your fave fish & chips place, ask yourself. Do I have food at home? Cut out on take out! And strive to carry lunch to work. Here are places you can get foodstuff on a budget:
– Vegetables: Marikiti and Gikomba.  This is where stores in Nairobi get their fresh produce in bulk. Find your way here and you can stock up on some fresh & dried veggies for as low as Ksh 20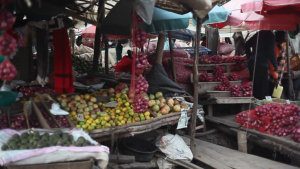 –  Milk: If you consume dairy on a daily, I'd recommend getting the Fino packaged milk pouches. If you live alone, a whole box should take you through the month. A box should set you back Ksh 600  That's two cups of latte at some upscale coffee shop.
– Meat, Fish & eggs:  City market, in the heart of the city, has all the nyama & eggs you need and for cheap too! You can get a kilo of beef for Ksh 200 in Ndonyo Market. at Alpha Foods, Road A, Enterprise Road, you'll get as much as 30 pieces of tilapia for  Ksh1700.
– Uncooked Cereals, Fruits & Nuts: Cereals – Get them at Nyamakima. A  kilo of beans can go for as low as Ksh 50. They have an assortment of fresh and dried fruits too. And you can always haggle with the vendors.
–  Sundries: O.T.C, downtown Nairobi, get your cooking oil, sugar, rice, flour…the whole kitchen shebang for a fraction of the prize.
3.) Toiletries: O.T.C is right up your alley. Toilet paper, soap, bleach….for unbeatable prices.
4.) Utensils: Kamkunji along Landhies road . You can get everything…and I mean everything you need here. I got a travel flask here for Ksh 200 four years ago. Works good as new.
5.) Clothing, shoes: Gikomba, Toi, Ngara, Mutindwa. The biggest names when it comes to quality second hand clothing & shoes. If you don't want to go rummaging, try Think Twice Second Hand Clothes

6.) Grooming: Dubois street is a one-stop lane for all sorts of beauty products, jewelry, hair products, and perfumes, at budget friendly  prices. You might wanna be keen on the counterfeit though.
7.) Electronics: Luthuli street is your plug for all cheap electronics in Nairobi. See all these online you love so much? that's where they get there stuff. Don't knock it till you try it
8.)  Books: Ever heard of 'Inama Bookshop' ? These are second hand book vendors who sell used books along the streets of Nairobi. I got a Stephen King Novel for Ksh 50!
9.) Furniture: Jogoo road, Gikomba are great places to get custom made furniture for cheap! The carpenters can be hella slow though
10.) Commuting: Commuting everyday in Nairobi can dent your pockets. Ride sharing services like Swvl can help you stretch those coins.