10 Unforgettable Moments from Game of Thrones S8 episode 1 'Winterfell'
In case you have been living under a rock for the past 48 hours, the greatest show in the world has officially begun, and we are muting the "I am the only person who has never watched GoT" haters because we have bigger battles to fight in Westeros.
Season 8 episode 1 titled 'Winterfell' served its purpose and gave us what we truly desired – the long-awaited reunions, some love (and shade), and the much-needed comic relief here and there. A few things we expected like Daenerys being entitled as always and expecting Sansa to acknowledge her Queendom (rolls eyes), Cersei sipping wine (isn't she like, pregnant?) and Winterfell swarming with outsiders as the Night King and his army of the dead march South.
We were also treated to a few quotes we cannot wait to sneak randomly in a conversation
"You want a whore, buy one. You want a queen, earn her." Cersei to Euron.
"What is dead may never die…but kill the bastards anyway." Yara to Theon as he heads to Winterfell to help the Starks fight the dead.
"I used to think you were the cleverest man alive." Sansa's reaction to Tyrion's trust in his sister Cersei.
In short, Game of Thrones lived up to the hype, as it should.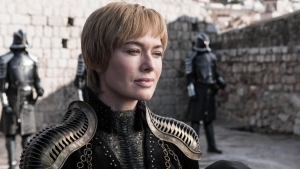 That said, here are our 10 unforgettable moments from episode 1 but be warned, this post is dark and full of spoilers.
Sansa sizing up Daenerys before that "Winterfell is yours, Your grace" It's taken a while to get here but we are just proud that our Lady of Winterfell – more like the Lady of Shade – has finally come of age.
Bran and Jon's reunion. Of course, with Bran we knew it was always going to be a little weird, at least he smiled a little before ruining the mood and reminding us all that the dead are coming. It's all Jon ever talks about Bran, we get it.
The tiny and mighty Lyanna Mormont calling Jon out on his bullshit. "Your Grace…But you are not, are you? You left Winterfell a king and came back a – I'm not sure what you are now. A lord? Ahem…the consequences of bending the knee.
Sansa and Daenerys take their shade to the Winterfell Great Hall. "What do dragons eat anyway?" To which Dany responds: "Whatever they want."
Jon and Arya's reunion. We have waited so long for this and it was everything we hoped it would be. And it even came with cute little teasing.
Cersei's smug smile when Qyburn tells her the dead have broken through the wall. All hail Queen Cersei! I want to be this calm when I receive such catastrophic news. I take that back. Euron? Really Cersei? So, we are just sleeping with anybody now? You disappoint me, Your Grace.
Jon rides a dragon. And we were also rewarded with a cheesy lovey-dovey moment between Jon and Daenerys with Drogon casually giving Jon a warning with that low roar and a steely stare, like if you break her heart then "Dracarys mate."
Sansa being bold enough to ask Jon the question everybody has been thinking. "Did you bend the knee to save the North or because you love her."
Sam tells Jon the truth about his real identity. "You've never been a bastard. You are Aegon Targaryen, true heir to the Iron Throne…Sixth of his name, protector of the realm…" Someone go tell Ser Davos that Jon has a proper title now, no longer just Jon Snow, King in the North.
Jaime Lannister and Bran reunion was as awkward, tense and as uncomfortable as we had expected. I wonder what their first words to each other are going to be.
Catch Game of Thrones season 8 episode 1 on Showmax or on DStv Now.